Why Do I Need To Have This CAR? Certificate Authorizing Registration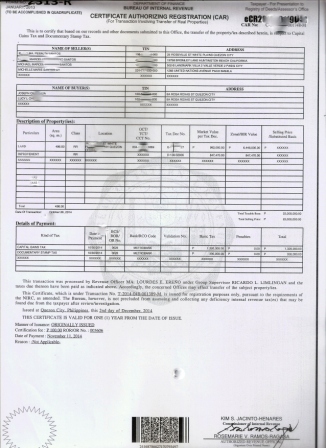 The Certificate Authorizing Registration is the form that the Bureau of Internal Revenue releases once they have confirmed that all necessary taxes with regard to a sale / estate tax / donor's tax / extra judicial settlement have been settled by the responsible party which is normally the Seller.
 The Certificate Authorizing Registration is one of the primary documents that also allows the Register of Deeds to transfer the Title into the name of the new owner.
Below is a recent case for y0ur reference :
Good morning everyone, just a word of advise on a recent case we came across with wherein a Certificate Authorizing Registration ( CAR ) was missing from an Extra Judicial Settlement case which went through three deaths within the family. It's really quite simple, three deaths would add up to three extra judicial settlements and therefore would need three Certificate Authorizing Registration showing that the proper Estate Taxes or Donor's Tax ( Gift Tax ) were paid. As of now, the case is still under verification as this particular seller may have done something in order to  reduce their taxes, please think twice, thrice, and we suggest to never entertain shortcuts as this is a sensitive issue which the Bureau of Internal Revenue takes by heart.  By the way, in this case, the Bureau of Internal Revenue did a trace back from the 1st death which occurred 12 years ago and the problem lies on the recent death of about 4 year ago.  Each death goes thru an Estate  Tax and correspondingly, a Certificate Authorizing Registration which is proof that proper taxes have been paid.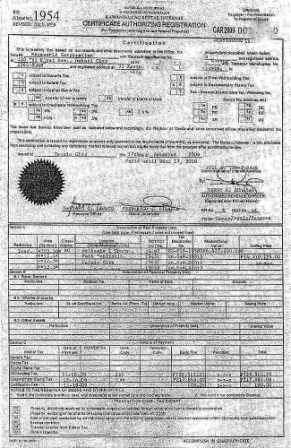 Hope this helps in your awareness of understanding why the Certificate Authorizing Registration is very important.  Recently, the CAR has now been replaced by an eCAR -all electronically prepared and good for one year, you will have to get a new certified true copy after a year or when it's time to sell or donate the property.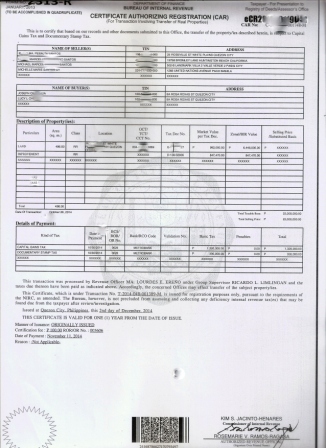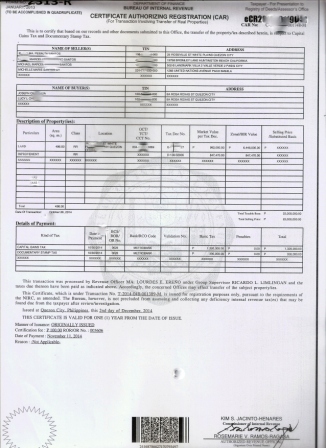 By the way,  we appreciate the replies, lets, emails, comments, most have in my blogs but please consult your accountant or tax lawyer for any issues you may have.  Also the Bureau of Internal Revenue has a call center which you could call and ask for the ONETT, they normally have an Officer of the Day that can answer or lead you to the right person to answer your concern.
Have a great day !
thank you.
Glenn
RE/MAX Premier BGC (Bonifacio Global City)
PRC # 11412
02 9948103 ( direct line )
+ 632 5551002 ( trunkline )
+ 63 917 5364829 ( globe whatsapp viber line)
Email : gdn@remaxpremiermanila.com
Website : www.glennisnitafan.com
Website : www.remaxpremiermanila.com
Website: www.condosphilippines.com